I regret to say that it looks like the war in Ukraine will expand.  When Ukraine said they would become a neutral state there was hope, but it looks like Russia is determined to capture Ukraine.  Why?  For the food.  Ukraine is sometimes called the "breadbasket of the world."  It looks like Russia/China wants to corner the market on grains and gain control over access to food. 
When Putin claims that he wants to drive the "Nazis" out of Ukraine, he is lying, as he is little better than the Nazis himself.  He wants to conquer Ukraine and control food production.  Russia and Ukraine together account for 25 percent of the grain world wide, and "12 percent of global calories".  Food control is what Putin has in mind.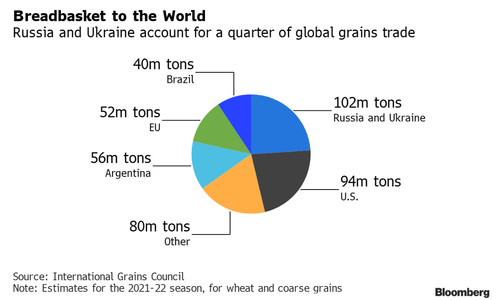 Restricting grain supplies from the Black Sea region threatens to further boost global food prices that are near a record high, at a time when supplies are already strained with adverse weather in many growing regions. – Bloomberg 

"If the conflict is prolonged — three months, four months from now — I feel the consequences could be really serious," Andree Defois, president of consultant Strategie Grains, told Bloomberg. "Wheat will need to be rationed."

Michael Magdovitz, a senior analyst at Rabobank, said Ukraine and Russia had increased harvests and exports in the last decade at a far lower cost than western farmers, which helped keep wheat prices low. However, that's not the case today as the Russian invasion sends wheat futures trading in Chicago to a six-year high.

"I'm not going to put a lid on what might happen," Arlan Suderman, chief commodities economist at StoneX, told Bloomberg. "We could easily be looking at record prices."

https://www.zerohedge.com/commodities/breadbasket-world-choked-russian-invasion-wheat-prices-soar
Putin is there to steal food production because he knows that with food control comes great power.  He has the natural gas that Europe desperately needs, and now he wants the food.
Kyiv-based researcher UkrAgroConsult warned, "the chain of product creation, from cultivation to port shipments, is paralyzed."

This brings us back to Goldman's Global Head of Commodities Research Jeffrey Currie, who told Bloomberg TV earlier this month that he's never seen commodity markets pricing in the shortages they are right now.

"I've been doing this 30 years and I've never seen markets like this," Currie told Bloomberg TV in an interview on Monday. "This is a molecule crisis. We're out of everything, I don't care if it's oil, gas, coal, copper, aluminum, you name it we're out of it."
To emphasize a point that speaks to the expansion of the war, I want to show you a quote from a high-ranking British official yesterday.
UK Foreign Secretary Liz Truss said Sunday in response to a question from the BBC on the issue of Britons joining the war: "Absolutely, if people want to support that struggle I would support them in doing that," she said. "That is something people can make their own decisions about. The people of Ukraine are fighting for freedom and democracy, not just for Ukraine but for the whole of Europe," Truss said.
That's a pretty bold statement, and a sobering one, because it is illegal for UK citizens to fight in wars for foreign countries.
The mindset of Europe is that this is a war for survival, not just for Ukraine.  That said, unless Putin turns away from war, this thing is expanding.
Further expanding the war, The European Union's top diplomat Josep Borrell informed a news conference on Monday that the EU's satellite center in Madrid, Spain (pictured below) will be used to provide intelligence to inform the Ukrainian government of Russian troop movements.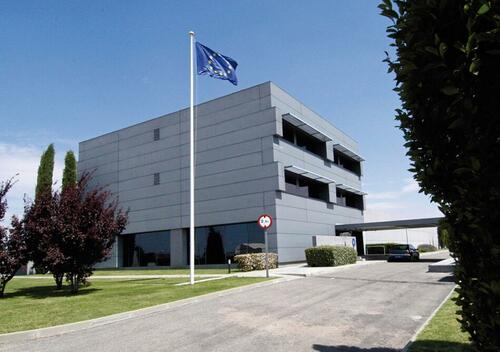 Russia's defense ministry says its strategic missile forces and Northern and Pacific fleets have been placed on enhanced combat duty in line with an order from Putin, according to a report by the Interfax news agency.
Defense Minister Sergei Shoigu told Putin that "shifts on duty at the command posts of the Strategic Missile Forces, the Northern and Pacific Fleets, and the Long-Range Aviation Command began to carry out combat duty with reinforced personnel", Interfax quoted the ministry as saying.
Remember – Joseph Stalin captured Ukraine and stole their grain back in the 1900's to feed Moscow.  He had to convince Moscow that communism worked and he used the food produced by the Ukrainians to prove it.  But over 1,000,000 Ukrainians starved to death so Stalin could feed the communists.
This looks like more of the same, and Ukraine remembers.
So war, and then famine.  The Second and Third Seals.
Do Select One Link Below Before You Go. Read & Subscribe.