Update – 20,000 armed soldiers are packing into Washington, DC. 3,000 are sleeping INSIDE the Capitol Building. All are being armed with machine guns and side-arms.
"Why all the fuss, JD?" you ask.  Because when it's Trump who raises his hand with his other on the Holy Bible, the demons will want to burn DC to the ground.
Lots of unusual and excessive count of heavy C-class military cargo aircraft in the air yesterday.  Over 60, and most of that air traffic of those planes in Central Texas and Fort Carson, Colorado.  Looks like traffic between Ft. Hood, TX and Ft. Carson.  Might be transport FROM Ft. Carson TO Ft. Hood, because Texas is the last free state.
Ft. Hood is the largest military base in the world, I think.  Heavy duty killing capacity at Ft. Hood.
Of particular interest is the 10th Special Forces Group at Ft. Carson.  If they are relocating to Texas, here is what they bring:
The 10th Special Forces Group (Airborne) (10th SFG) (A) or (10th Group) is an active duty United States Army Special Forces (SF) Group. 10th Group is designed to deploy and execute nine doctrinal missions: unconventional warfare, foreign internal defense, direct action, counter-insurgency, special reconnaissance, counter-terrorism, information operations, counterproliferation of weapon of mass destruction, and security force assistance.[4]
These are all skills that will be extremely valuable if there is a civil war between the Domestic Communists and Americans.  No American is communist, and no communist is American.
You did polish your bullets, right?
@mkraju Racks upon racks of rifles and pistols. National guard gearing up at the Capitol. pic.twitter.com/EzRriokncu

— Josh Replogle CNN (@Joshrepp) January 13, 2021
This taken this morning.  Armed soldiers sleeping on the cold marble floor of the Capitol Building.  Thank the Democratic Party for this madness.  Heck, thank the Republicans, too.  Trump is neither Dem or Rep.  He is just a man who wanted to give something back to the nation he loves.  I'm really proud of him, and also humbled.  That man and his family have endured pure hell for years.  Time to put an end to his tormenters and let him do his job.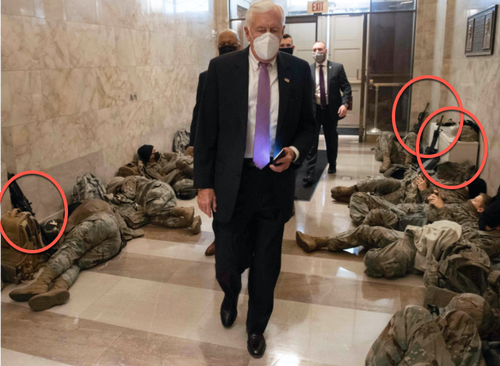 When things finally go kinetic, your ISP will be required to block JerryWDavis.com.  Maintain CONTROL over your access to information by implementing my simple security measures right now.
SECURE YOUR NETWORK AND PHONE – free.  Move with a sense of urgency.  This is not a drill.