I cannot confirm this yet, but I did report it to a major news source, that a U.S. General has been captured in Ukraine, captured by Russian troops. If true, this smacks of a deliberate attempt by the Biden administration to aggravate the war and involve the USA in a major way.

Unconfirmed sources from Russia Military:
The Russian army captured the
U.S Major General Roger L. Cloutier Jr. Maj. Gen. Roger L. Cloutier, the U.S. Africa Command HQ Chief of Staff in the besieged Ukrainian Azov camp in Mariupol 🐠😂,
The Pentagon wanted to contact Putin, (1/x) https://t.co/ZllYq7Autf pic.twitter.com/M3e2klGck1

— Formosa Club 🌐 Russia Office 🌐 (@Miguel18011505) April 3, 2022
Who He Is
U.S. Army Lt. Gen. Roger L. Cloutier Jr., Commander of NATO's Allied Land Command, and Acting Deputy for the Ukrainian Land Forces, Major General Oleksandr Holodniuk, visit the International Peacekeeping and Security Center near Yavoriv, Ukraine, July 8, 2021. Part of the continuing staff talks between NATO and Ukrainian land forces, the visit allowed for collaboration and information sharing between the senior staffs and the development of best practices within their organizations.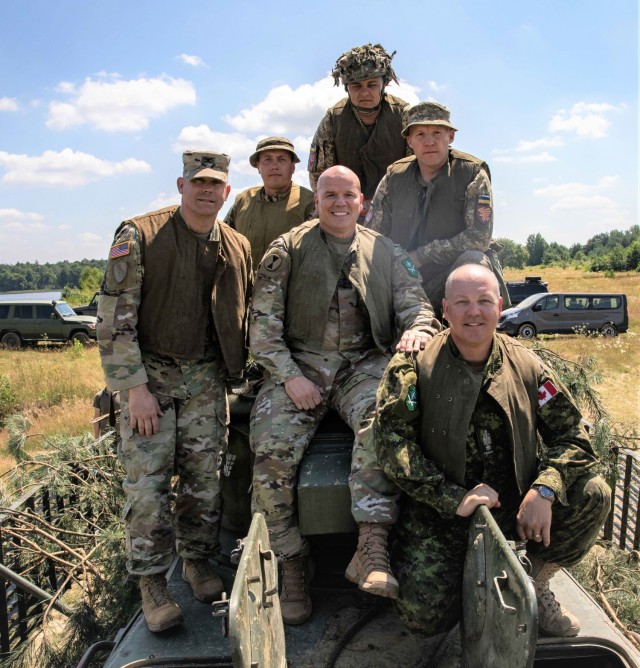 UPDATE 13:02 Hrs.
NUMEROUS REPORTS: U.S. Army General CAPTURED in Mariupol with AZOV Nazis!
Numerous reports are now circulating claiming that United States Army Major General Roger L. Cloutier has been CAPTURED by Russian forces in or around Mariupol, Ukraine where, the reports claim, he was helping the AZOV Battalion which is Ukraine's official NAZI unit.
According to Wikipedia, Major General Roger L. Cloutier:
Roger L. Cloutier Jr. is a United States Army lieutenant general who serves as the Commander of the Allied Land Command. Previously, he served as the Commander of the United States Army Africa.
Allied Land Command (LANDCOM) formerly Allied Land Forces South-Eastern Europe (LANDSOUTHEAST) is the standing headquarters for NATO land forces which may be assigned as necessary. The Commander LANDCOM is the prime land warfare advisor to the Alliance. When directed by the Supreme Allied Commander Europe, it provides the core of the headquarters responsible for the conduct of land operations. The command is based at ?irinyer (Buca), ?zmir in Turkey.
Email to the Pentagon sent several HOURS ago, has gone unanswered which, from a media perspective, is very unusual.  If this report was false, the Pentagon would deny it immediately.  They have NOT denied it.  But no official answer has come from the Pentagon either way as of 6:10 PM EDT Monday.
The post NUMEROUS REPORTS: U.S. Army General CAPTURED in Mariupol with AZOV Nazis! appeared first on .
Click this link for the original source of this article.
Author: paul@aetalkradio.com
Do Select One Link Below Before You Go. Read & Subscribe.