It will not get better until Yahusha comes.
Getting ready for the coming civil war is a tough thing to do, primarily because no rational human being actually wants a civil war.  But the war is on-going and we see it every day of our lives.  A perfect example is this: Two weeks ago I was on an activity with a class of high-school students, a small class that went to a very good art museum, and in that small class were three high-school boys dressed as women.  The doors of Sodom have swung open wide, and these children, who grew up without any teaching on Yahuah, are so profoundly confused.  Satan is responsible for this.
This insanity is happening everywhere.  I heard last week that every U.S. Ambassador to all foreign countries is an open homosexual.  Truly the shatan is vigorously promoting the destruction of the world.
I thought I would throw some headlines at you.  These are only a very small sample of what I review every day of my life.  These headlines are coming so rapidly now that I can no longer keep up.  The collapse, the debauchery, the vile wickedness at the very top of the food chain is simply unimaginable, escalating and spreading down to the lowest levels of global populations.
What you will read below should convince you that the war is under way and highly advanced.
You must prepare your mind to accept the fact that an extremely vicious and local civil war is about to burst into your lives.  And mark this: elements of the U.S. military/defense department/intelligence agencies are already taking positions in towns and cities all over America.  They are renting homes in suburban neighborhoods and possess excellent, heavy duty hardware.  These people are positioning themselves to strike quickly and, with near perfect anonymity, hit key individuals who have high "threat matrix scores."
Some of you know what I mean, and you need a bug-out plan ASAP.  Have a place to retreat to, and leave your cell phone at home.  Get a burner phone.  Be discrete.  Keep secrets.
---
UN report calls for decriminalization of all sexual activity, including between adults and children
A new report from the United Nations has called for all forms of drug use and sexual activity to be decriminalized globally.
Written by the International Committee of Jurists (ICJ), UNAIDS and the Office of the High Commissioner for Human Rights (OHCHR), the report was released on International Women's Day, with the goal of guiding "the application of international human rights law to criminal law." Called the "8 March principles," the report calls for offenses related to "sex, drug use, HIV, sexual and reproductive health, homelessness and poverty" to be decriminalized.
The United Nations experts say that criminalizing offenses related to these issues constitute an attack on human rights.
"Criminal law is among the harshest of tools at the disposal of the State to exert control over individuals… as such, it ought to be a measure of last resort however, globally, there has been a growing trend towards overcriminalization," Ian Seiderman, Law and Policy Director at ICJ, said in the press release. "We must acknowledge that these laws not only violate human rights, but the fundamental principles of criminal law themselves."
READ: 'Aiding Abusers' series exposes Planned Parenthood's complicity in sexual abuse
While on the surface, it may seem relatively uncontroversial, the report calls for sex between adults and minors to be decriminalized, so long as the minors "consent":
With respect to the enforcement of criminal law, any prescribed minimum age of consent to sex must be applied in a non-discriminatory manner. Enforcement may not be linked to the sex/gender of participants or age of consent to marriage. Moreover, sexual conduct involving persons below the domestically prescribed minimum age of consent to sex may be consensual, in fact, if not in law. In this context, the enforcement of criminal law should reflect the rights and capacity of persons under 18 years of age to make decisions about engaging in consensual sexual conduct and their right to be heard in matters concerning them.
Pursuant to their evolving capacities and progressive autonomy, persons under 18 years of age should participate in decisions affecting them, with due regard to their age, maturity and best interests, and with specific attention to non-discrimination guarantees.
Minors, of course, cannot truly consent to sex with an adult — something these so-called experts should know. The report also calls for all criminal laws relating to sex work to be abolished, which could easily serve to aid traffickers, pimps, and abusers. In turn, this serves the abortion industry as well, which has aided traffickers and abusers by failing to report suspected abuse and returning victims to their abusers after their abortions. Decriminalizing sex work, sex crimes against minors, and abortion would only serve to doubly suit traffickers and abusers, who are known to use abortion as a means to cover up their crimes.
---
BREAKING: State of Washington Passes Bill Allowing Government to Take Minor Children Away From Parents If They Refuse To Agree to Gender Transition Surgery
According to Seattle, WA journalist Katie Daviscourt, the Washington State Legislature passed SB 5599 last night, which allows the state to legally take children away from their parents if they don't consent to their child's gender transition surgeries.
All Democrats voted YES.
All Republicans voted NO.
Democrat Washington State Senator Marko Liias issued a statement when the bill passed, saying:
"Under current law, if a child who has run away from home goes to a licensed shelter, that shelter is required to notify the parents unless a compelling reason applies. The bill allows certified shelters to contact the Department of Children, Youth, and Families (DCYF) in lieu of parents in certain additional instances, such as when a youth is seeking reproductive health services or gender-affirming care."
The progressive lawmaker explains why the government should strip parents of their rights to make critical, life-altering decisions for their minor children and give them a place to live with people who agree with the mutilation of minor children.
"This bill is an important step in ensuring young people across the state have a roof over their heads during an already challenging period in their life," said Liias. "While we hope that every child has a supportive family that will provide them with acceptance and the care they need, it's crucial that we provide housing options to those in crisis."
He continues:
The legislation would ensure that children who may not have supportive families at home do not end up on the street but instead have shelter when seeking these protected health services.

"This bill is such an important step towards protecting our at-risk youth in Washington," said Danni Askini, Executive Director of Gender Justice League. "It takes immense courage and bravery for trans youth to come out to their family and ask for support. All young people in Washington State should have the right to be safe, true to themselves, and to live free of violence. This bill helps us ensure the safety and opportunity of some of the most vulnerable young people we work with."
A formerly transgender teenager from California is suing the medical group and hospital that encouraged her to undergo a gender transition at the age of 15, citing this as the only option for her to break free of her mental illness and live a happy life.
Chloe Cole, an 18-year-old female, was put on puberty blockers at the age of 13, causing joint pain, weak bone density, and continuous UTI symptoms. She had a double mastectomy when she was only 15, and was prescribed puberty blockers and cross-sex hormones at the same young age. Now, three years later, she deeply regrets these permanent, life-altering decisions.
Now, Cole is suing those responsible for encouraging her to make a medical transition while still a minor. On November 9, her legal team submitted a letter of intent to sue The Permanente Medical Group, Kaiser Foundation Health Plan, Kaiser Foundation Hospitals, and several doctors who "performed, supervised, and/or advised transgender hormone therapy and surgical intervention for Chloe Cole when she was between 13-17 years old."
The letter explains that the medical personnel involved in this case "coerced Chloe and her parents to undergo what amounted to a medical experiment by propagating two lies." The first lie that the defendants are being accused of is "falsely [informing] Chloe and her parents that Chloe's gender dysphoria would not resolve unless Chloe socially and medically transitioned to appear more like a male."
The second lie that the medical "professionals" perpetrated was that Cole was at high risk for suicide, which would only be corrected through a social and medical transition. Cole's parents were also emotionally manipulated, allegedly being given the ultimatum, "Would you rather have a dead daughter or a live son?"
Cole spoke to the Catholic News Agency in September, where she revealed that her parents were "scared and desperate for answers" and were forced "under extreme duress" to sign off on her transitioning treatments.
Kaiser Permanente is being accused of gross negligence in the handling of Cole's case, subsequently causing "permanent and irreversible mutilation and damage to her body."
The letter from Cole's legal team details that, although she was assured by the medical teams that her distress was the result of gender dysphoria, which would be resolved after she transitioned, her mental condition only worsened.
"Indeed, her mental health and suicidality issues worsened significantly after she had the double mastectomy," the letter says. "Eventually, Chloe realized that the answer to her struggle was not surgery and hormones, as she had been advised, but a shift in her mental perspective. She realized that the only way she would be happy is if she mentally accepted her biological sex and chose to live a life that aligned with her natural sex."
"Chloe has suffered physically, socially, neurologically, and psychologically. Among other harms, she has suffered mutilation to her body and lost social development with her peers at milestones that can never be reversed or regained."
The suit also alleges that the consent form she signed ahead of receiving the puberty blockers and hormones "contained no specific information regarding the actual risks of the testosterone and puberty blockers."
"The adults who were supposed to take care of and guide me as a child failed to do so and they will take responsibility for it," Cole told the Epoch Times.
In a separate statement, Cole said,
"My teenage life has been the culmination of excruciating pain, regret, and, most importantly, injustice. What is worse is that I am not alone in my pain. I will see to the fact that the blood and tears of detransitioners like myself will not lay waste. It is impossible for me to recoup what I have lost, but I will ensure no children will be harmed at the hands of these liars and mutilators."
The 18-year-old most regrets how "the beauty of motherhood" was stolen from her before she was at an age where she could fully comprehend what she was giving up.
Cole is seeking "punitive damages based on the evidence of malice, oppression, and fraud." However, her ultimate goal is to "set a precedent that will change the landscape for these barbaric processes and to create a pathway for other de-transitioners to seek justice."
Harmeet Dhillon, one of the attorneys representing Cole, gave a statement on the case, saying, "The medical system shouldn't dictate the future of young children's lives. Through this legal action, the 'professionals' involved will be held accountable for their despicable plot to mutilate children and financially benefit from it. We will break the cycle of them breaking our children before it's too late."
Minor children are unable to smoke cigarettes or drink alcohol, but according to the state of Washington, they are able to have major surgery that alters their sex, and if their parents don't consent, they will be taken away.
---
Independent journalist ATTACKED by CBS crew member outside Trump arraignment in NYC
Independent journalist Oren Levy was attacked by a sound man for CBS News.
An independent photojournalist named Oren Levy was violently assaulted by a deranged CBS News crew member while covering the Trump arraignment in New York City on Tuesday.
The Post Millennial was the first outlet to cover the incident.
In the video below, a large, deranged black man grabs Levy by the jacket and shoves him back. He screams "don't ever f**k with me" at Levy for an unknown reason.
BREAKING: Member of the press assaults independent photographer @ViralNewsNYC while screaming "I will KILL YOU" outside NY courthouse today

Footage by @MeechMemezpic.twitter.com/BcsyxO68c4

— Jack Poso 🇺🇸 (@JackPosobiec) April 4, 2023
The assailant was part of the crew with Roxana Saberi, covering the arraignment for CBS News.  Yes, a CBS News employee.
---
Toronto demands decriminalization of fentanyl and meth for kids
The City of Toronto has released its sweeping plan to decriminalize all hard drugs, including fentanyl and crack cocaine for any age.
Toronto's request is even more lenient than the decriminalization order granted to the entire province of British Columbia by Prime Minister Justin Trudeau earlier this year.
The City is asking that the federal government grant a Health Canada exemption for all drugs extending even to children. 
In British Columbia's case, the granted exemption only applies to adults. The report claims that decriminalization should be offered for "all people in Toronto, including youth."
"Criminalization does not effectively deter youth substance use. The data show that youth in Toronto between the ages of 12 and 17 use unregulated drugs and are vulnerable to the same harms associated with criminalization as adults," claimed the report.
Toronto's "city-wide" exemption does not apply to child care facilities, airports or schools.
Toronto demands decriminalization of fentanyl and meth for kids
---
Israeli Cops Beat Worshippers At Al Aqsa Mosque – Rockets Fly From Gaza – IDF Bombs Strip
Smoldering tensions between Arabs and Israelis burst into warfare over Tuesday night, following a provocative Israeli attack on worshippers at one of Islam's most sacred places. 
The violence was initiated when Israeli police raided Jerusalem's Al Aqsa Mosque, brutally beating worshippers. Outrage swept across Palestinian communities, sparking marches, confrontations with Israeli troops, and rocket attacks from the Gaza Strip. The violence spiraled higher, as the Israeli Air Force bombed Gaza.  
The Israeli raid on the Al Aqsa Mosque came during Islam's holy month of Ramadan. Middle East Eye reports that hundreds of men, women and children were staying overnight to pray, a practice called Itikaf. The Israeli government controls access to Al Aqsa, and prohibits Itikaf there except for the final 10 days of Ramadan. Palestinians have ignored that prohibition, apparently with Israeli acquiescence.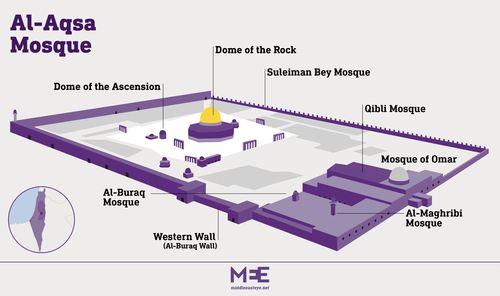 Not this time. Around 10pm local time, police entered the mosque grounds and began clearing the faithful from exterior courtyards. As that played out peacefully, dozens of others locked themselves inside the Qibli prayer hall in an attempt to dodge eviction.
An hour later, heavily-equipped police smashed windows of the prayer hall and unleashed a stun gun and tear gas barrage. Storming into the hall, the police began beating worshippers. Video footage appears to show police pummeling worshippers cowering on the floor.
Haaretz reports that the overnight worshippers were motivated in part by Israeli settlers calling for Jews to sacrifice goats at the Al Aqsa mosque on Wednesday, as Passover starts. The mosque is situated on land also revered by Jews, who call it the Temple Mount. The long-standing arrangement on this sensitive land is for Jews to visit but not worship there — and certainly not to sacrifice animals.
Israeli authorities characterized the worshippers as masked agitators armed with fireworks, sticks and stones. This video appears to confirm the fireworks claim, although even the official police statement says the fireworks and stones flew only after police had launched their attack:
A female worshipper told Middle East Eye that, while women were eventually allowed to leave the prayer hall, the men were brutally beaten and arrested. "Every single one of them was harshly beaten. Every single man," she said. A witness told Reuters, "They detained people and put the young men face down on the ground while they continued beating them."
Compounding the provocation to not only Palestinians but the Muslim world, tweeted videos show the interior of the prayer hall was left in a shambles:
The Saudi Arabian, Egyptian and Jordanian governments condemned the incident. "The storming of the blessed Al-Aqsa Mosque and attacking it and the worshipers is a flagrant violation," said Jordan's statement. Jordan's condemnation carries extra weight, as the kingdom has acted as custodian of Jerusalem's holy sites for almost a century.
A spokesperson for Palestinian President Mahmoud Abbas said, "We warn the occupation against crossing red lines at holy sites, which will lead to a big explosion."
Explosions ensued. Hamas called Israel's action "an unprecedented crime," and Gaza militants retaliated with a salvo of around rockets fired at Israel.
A food factory in Sderot was reportedly struck, without casualties. This widely-circulated video is said to show the impact, with workers scrambling to reach shelter:
Video appeared to show Iron Dome defensive missiles neutralizing some of the rockets:
According to Reuters, witnesses say Israeli tanks fired shells at Hamas positions near the border fence. The Israeli Air Force struck back with bombs, with this video said to show some of the destruction:
Gaza militants appear to have then fired more rockets:
Over the past months, Israel has been rocked by enormous upheaval against the Benjamin Netanyahu government's proposals to reform the Supreme Court, which prompts a question: Was the Al Aqsa raid intended to spark a violent Palestinian response that distracts and unites Israel's Jews? 
Or maybe it's just the latest illustration of the reckless, incendiary ultra-nationalism of Israel's new far-right government…which threatens to take a toll on Americans and Israelis alike.
---
We're Living The Period Of 'The Overture' Leading To 'Kinetic War' – Over 700 'Attacks' On Our Food Supply System And 'Grey Terror' From East Coast To The West Carried Out Before Our Eyes
– Rush of Chinese men to get into America like an animal stampede before an earthquake
By Stefan Stanford – All News Pipeline – Live Free Or Die
While the Communist propaganda 'mainstream media' and traitors in Congress will surely hope Americans never notice it until it's far too late, the hashtag over at Twitter #AmericaUnderAttack is suddenly seeing a lot of posts: from train derailments spilling toxic chemicals into major American rivers to attacks on power substations to communist-inspired Antifa attacks on police stations to violent transgenders carrying out murders at Christian schools to even more food processing plants being blown to pieces, such 'events' are looking to more and more people like 'America is under attack.'
With threads to that hashtag interestingly being posted by people from both major sides of the political spectrum, though many more threads of such 'events' are being posted by people on 'the right,' we can't remember any time in our lifetimes there have been so many such events all happening in such a short period of time, as if all of these things were well orchestrated in advance, what we've reported several times on ANP would likely happen in the mass rush towards WW3 that comes home here to America, 'grey terror.'
And as one commenter on a thread in that #AmericaUnderAttack hashtag pointed out of the recent trans murders in Tennessee, all of that smelled just like a #MKUltra event, another deep-state mind-controlled killer unleashed upon Americans to help push the 'cabal' to their 'end game,' the disarmament of the American people, so they can carry out that 'mass murder end game' without any 'opposition.'
With the ZeeMap seen at the top of this story documenting all of the different 'events' that have happened that have damaged, in one way or another, America's food supply system, from bombings at food processing plants to mysterious fires to what appear to be all-out attacks upon 'the animals' to food stores being shut down to attacks on farming equipment to chemicals being spilled into some of America's largest rivers and much, much more, with over 700 such 'events' being documented, does anybody reading this think this is all just the 'new normal' here in joe biden's America? If so, we're in much deeper trouble than we think.
Because as we'd reported on ANP back on February 26th of 2022 in this linked story titled "Russian Defector Warned What Would Happen Right Before WWIII: 'The Overture' – 'Grey Terror' Hits America's Food Supply System, Another Reason Food Prices Will Keep Skyrocketing," former Soviet Union Intelligence Officer Viktor Suvorov, who defected to the UK back in 1978, warned us in his book "Spetsnaz's First World War" we'd be witnessing all of these kinds of events in the period of 'the overture,' in what he believed would be the build up to WWIII, arguably what's unfolding now before our eyes.
Warning that while he didn't know EXACTLY how World War Three would start, the leadup to it would bring a series of covert actions carried out by secretive and highly trained special forces, Suvorov warned.:
"The last month of peace, as in other wars, has an almost palpable air of crisis about it(ANP: Sound familiar?) Incidents, accidents, small disasters add to the tension. Two trains collide on a railway bridge in Cologne because the signaling system is out of order. The bridge is seriously damaged and there can be no traffic over it for the next two months. In the port of Rotterdam a Polish supertanker bursts into flames. Because of an error by the captain the tanker is far too close to the oil storage tanks on the shore, and the burning oil spreads around the harbor. 
There is a terrorist explosion at Vienna airport. A group of unidentified men attack the territory of the British military base in Cyprus with mortars. A serious accident takes place on the most important oil pipeline in Alaska. The pumping stations break down and the flow of oil falls to a trickle. In West Germany there are several unsuccessful attempts on the lives of American generals. In the North Sea the biggest of the British oil rigs tips over and sinks. The precise reason for this is not established, although experts believe that corrosion of main supports is the culprit.
In the United States an epidemic of some unidentified disease breaks out and spreads rapidly. It seems to affect port areas particularly, such as San Francisco, Boston, Charleston, Seattle, Norfolk and Philadelphia. There are explosions practically every day in Paris. The main targets are the government districts, communication center's and military headquarters. At the same time terrible forest fires are raging in the South of France.
All these operations — because of course none of these events is an accident — and others like them are known officially in the GRU as the 'preparatory period', and unofficially as the 'overture'.The overture is a series of large and small operations the purpose of which is, before actual military operations begin, to weaken the enemy's morale, create an atmosphere of general suspicion, fear and uncertainty, and divert the attention of the enemy's armies and police forces to a huge number of different targets, each of which may be the object of the next attack.
Warning us in his book that all of these 'military operations' are carried out by agents of 'secret services,' with the US government now having launched a deadly and diabolical war upon the American people, that likely means its the CIA and 'deep state' carrying out these acts of terror upon America, attempting to weaken us in the buildup to a 'kinetic war,' meaning such 'war' is dead ahead. Warning also in his book that this period of 'the overture' can last for months, while the 'enemy' prepares for the coming bloodletting, think about that when you think about all of the military-aged men now flowing into America from China, thanks to joe biden's never ending treason.
(ANP EMERGENCY FUNDRAISER: Due to a heavy, new censorship campaign by 'big tech' upon ANP articles, we're being forced to run an emergency fundraising drive. We also want to thank everybody who has donated to ANP over the years. With donations and ad revenue all that keep ANP online, if you're able, please consider donating to ANP to help keep us in this fight for America's future at this absolutely critical time in US history. During a time of systematic, 'big tech' censorship and widespread institutional corruption, truth-seeking media and alternative views are crucial, and EVERY little bit helps more than you could know!)
And while ANP had reported just days ago that illegal border crossings by Chinese military aged men were up a whopping 900%, even this linked story over at left-wing Axios is reporting similar numbers as seen in the chart from their story above showing that in the past 16 years dating back to 2007, we've never seen anywhere near the numbers we're seeing now, and keep in mind, those numbers only show January and February.
Proving that the numbers for the entire year of 2023 will absolutely demolish the numbers from any previous year, WHY are so many military-aged Chinese men now coming into America? While that Axios story claims its Chinese men attempting to get away from China's President Xi's tyranny, two alarming statements from that story show us why we all should be paying close attention.
With Texas border Democrat Rep. Vicente Gonzalez telling Axios "So the word is out, right? If you can get to our southern border, you have pretty good shot at getting in, and it has changed the demographics," they also interviewed one of those Chinese nationals who got into America and who bluntly told them of this rush to get into America: "It's like an animal stampede before an earthquake."
So while that Axios story could be right, and maybe all of these military-aged Chinese nationals rushing in now to get into America may just be 'escaping Xi's tyranny,' why now, all of a sudden, when Xi's tyranny there has been growing for many years? The fact that all of that is happening at the very same time as all of these 'attacks' upon our food supply system and America's infrastructure tells us a much different story than the communist mainstream media will ever report: America is under attack. 
With 'big pharma' and the US government now carrying out the biggest and most barbaric crimes in history with the mass murder campaign they've undertaken, carrying out deadly 'experiments' upon those who never would have gotten 'vaxxed' if they knew it could lead to their 'sudden and mysterious deaths' as have now happened to so many, when will the likes of fauci and biden and the cdc be held accountable for what is nothing less than still-ongoing genocide, aka, mass murder?
Actually targeting young and innocent children in their 'depopulation schemes,' with proof that thousands and thousands of young children are 'dying suddenly' as Dr. Paul Elias Alexander had reported in this substack entry, and 'governments' proving themselves to be the biggest mass murderers in world history, with 'crimes upon humanity' carried out by government's dwarfing those carried out by 'individuals,' we're heading down a very dark road there is no coming back from if we don't get off it now.
And it's definitely NOT just a coincidence that ALL of these crazy events are happening now, at the same time as the implosion of our 'banking system' and the globalists push for a 'great reset' to bring in their 'new world order' that reeks of a tyranny that MUST BE CRUSHED at all costs for the sake of humanity. 
With America's Founding Fathers ensuring in the 2nd Amendment that there should NEVER BE A SAFE SPACE FOR TYRANNY OR TYRANTS here in America, and the 475 million+ guns owned by Americans definitely NOT just for 'deer hunting' but ensuring that there should NEVER be tyranny for our children or grandchildren here in the USA, if we were living in a different time period, there'd surely be guillotines or lynching stations set up in every city and every street corner to ensure tyrants met their timely ends.
So while all of these 'crazy events' happening here in the USA could all just be 'crazy coincidences,' the odds of that are about the same as the odds it's just a coincidence that all of these insane trannies are planning an armed 'day of vengeance' at a time when biden and the globalists are attempting to disarm peaceful and law-abiding Americans as heard in the final video below.
So please join ANP in praying for peace here in America in the coming days, weeks and months ahead, while being fully prepared for a full-scale breakdown of law and order and the kind of 'war' here in America that the globalists so desperately need to usher in their full-scale tyranny, a 'war' that's already easy to see with #AmericaUnderAttack as they push us past the breaking point.
EMERGENCY ANP FUNDRAISER: With non-stop censorship and 'big 
tech' attacks upon independent media, donations from readers are absolutely critical in keeping All News Pipeline online. So if you like stories like this, please consider donating to ANP.

All donations are greatly appreciated and will absolutely be used to keep us in this fight for the future of America.
`
Thank you and God Bless. Susan and Stefan.

PLEASE HELP KEEP ANP ALIVE BY DONATING USING ONE OF THE FOLLOWING METHODS.One time donations or monthly, via Paypal or Credit Card:

Or https://www.paypal.me/AllNewsPipeLine
OR Donate to ANP via Subscribestar

Donate Via Snail Mail
Checks or money orders made payable to Stefan Stanford or Susan Duclos can be sent to:
P.O. Box 575
McHenry, MD. 21541
---
UK Government quietly confirms Triple+ Vaccinated accounted for 92% of COVID Deaths in 2022
Official figures sneakily published by the UK Government, reveal that the triple+ vaccinated population accounted for 92% of Covid-19 deaths throughout the entirety of 2022, and 9 in every 10 Covid-19 deaths in England over the past two years.
On the 21st of February 2023, a UK Government agency, known as the Office for National Statistics (ONS), published data on deaths by vaccination status in England up to 31st December 2022.
The overdue dataset from the ONS is titled 'Deaths by Vaccination Status, England, 1 April 2021 to 31 December 2022', and it can be accessed on the ONS site here, and downloaded here.
Table 1 of the latest dataset contains figures on the mortality rates by vaccination status for all-cause deaths, deaths involving Covid-19, and deaths not involving Covid-19. And it is here that we are able to ascertain the vaccination status of everyone who has died of Covid-19 since the beginning of April 2021 up until the end of December 2022.
Here's how the ONS presents the figures for the month of October 2022 –
As you can see from the above, the vast majority of Covid-19 deaths occurred among those who had received three or more doses of the Covid-19 injection during that month. But this isn't an anomaly.
So we took the figures provided by the ONS and have produced the following chart showing Covid-19 deaths per month by vaccination status in England between 1st April 2021 and 31st December 2022, a period of 21 Months –
The above chart proves that the Covid-19 injections are not effective.
May 2021 saw the lowest number of Covid-19 deaths, with 205 among the vaccinated population and just 84 among the unvaccinated population. But fast forward a year and we find Covid-19 deaths increased by 450%, with 1,494 among the vaccinated and just 96 among the unvaccinated.
Surely if the Covid-19 injections were effective we would expect to see deaths decreasing year on year, not increasing?
Instead, what we find from the data is that Covid-19 deaths among the unvaccinated population have become almost negligible, while deaths among the vaccinated population have become more significant as time passes.
For instance, between April 1st and December 31st 2021, there were 17,150 Covid-19 deaths, 13,116 of which were among the vaccinated, and 4,034 of which were among the unvaccinated. This means 76.5% of Covid-19 deaths were among the vaccinated, whilst 23.5% of deaths were among the unvaccinated.
Then between April 1st 2022 and December 31st 2022, there were 17,161 Covid-19 deaths, which is only an increase of 11 deaths.
But the difference is, just 970 of those deaths were among the unvaccinated, whilst 16,191 were among the fully vaccinated.
This means we've gone from 76.5% of Covid-19 deaths being among the vaccinated and 23.5% of deaths being among the unvaccinated in 2021, to 94% of Covid-19 deaths being among the vaccinated and just 6% of deaths being among the unvaccinated in 2022.
The following chart shows the overall number of deaths by vaccination status between 1st April 2021 and 31st December 2022 –
In all, there were 45,191 Covid-19 deaths in England between 1st April 2021 and 31st December 2022, and 38,884 of those deaths were among the fully vaccinated population, while just 6,307 deaths were among the unvaccinated population.
This means the fully vaccinated population have accounted for 86% / 9 in every 10 Covid-19 deaths over the past twenty-one months.
Unfortunately, the mass Booster campaign in winter 2021 did absolutely nothing to alleviate the huge number of deaths among the vaccinated population.
In all honesty, the data suggests that the booster campaign actually made things worse, as you can see in the following chart showing the total number of Covid-19 deaths by vaccination status throughout 2022 –
In all, there were 28,041 Covid-19 deaths in England between 1st January 2022 and 31st December 2022, and shockingly, 25,758 of those deaths were among the fully vaccinated population, while just 2,273 deaths were among the unvaccinated population.
This means the fully vaccinated population accounted for 92% of all Covid-19 deaths throughout the year 2022.
And despite a fifth dose of the Covid-19 injection being offered to the public before the end of the year, it's those who had the most doses that account for the majority of deaths among the vaccinated.
These aren't the kind of figures you would expect to see if the Covid-19 injections really are up to 95% effective at preventing death, are they?
With news like this being swept under the rug by the mainstream media, it makes you wonder what else you are not being told…
---
Do Select One Link Below Before You Go. Read & Subscribe.