The Federal Bureau of Investigation (F.B.I) is a political tool of the communists seeking to overthrow the United States of America.  It is corrupt to the point that it fires men and women agents who actually stand for the truth.  I publish these few F.B.I.-specific articles to give interested readers a snapshot of the reality we face regarding the hatred of the F.B.I. for the Constitution of the United States.
This article is about the F.B.I. firing a fine agent, one of the rare ones who has good character, good morals, wisdom and an abiding love of the truth.  He was fired for these attributes.  This FBI whistleblower came forward to say that his employer, the F.B.I., violates policies in its investigation into the Jan. 6, 2021, Capitol breach.
I will write and publish one or two more articles related to the FBI very quickly, because it is important that you have an acceptable understanding of where you personally stand in regards to the F.B.I.  It isn't good, because the F.B.I. is a knee-taking political secret police machine.  You really need to wrap your brain around this fact.
The whistleblower raising concerns about how the bureau is handling the Jan. 6 investigation has identified himself as special agent Steve Friend.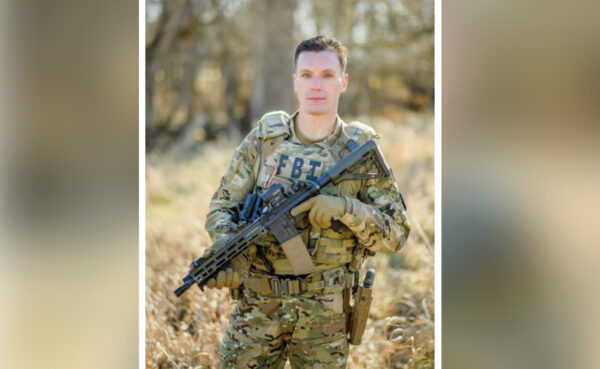 Friend, based out of Florida since June 2021, said in a declaration made public on Sept. 26 that he was told that child sexual abuse material investigations were "no longer an FBI priority" and should be referred to local officials. He says he was also told that he would be focusing on domestic terrorism investigations.
he was told that child sexual abuse material investigations were "no longer an FBI priority" and should be referred to local officials. He says he was also told that he would be focusing on domestic terrorism investigations.
Remember this: By definition, 10's of millions of the best Americans are classified as domestic terrorists.  When the institutions like the F.B.I. classify the people who are backbone of America as domestic terrorists, it is OBVIOUS that the 'government' must be taken down.  It must be, and a new and lawful government which upholds righteousness must be re-established.  But will that happen?
World War will happen first, and it will be a war that can be blamed in large part on Americans NOT standing up against anti-Christ government personnel and policies for decades.  The passive, timid, weak, worthless preachers and "Christian" policies of non-resistance to demonic actions in law allowed the demise of America to bloom.
Evil has always been with us, but meek "Christian" submission to blatant Satanism is a Christian doctrine serving  Satan, not God.  The F.B.I. fears MOST a violent and justified uprising of those who submit to the Commands of Yahuah, because even the anti-Christs in government recognize that they are wicked.
Friend observed that FBI policies on case assignments were being violated because the Washington Field Office was enabling field offices around the country to lead investigations on crimes that allegedly took place in Washington on or around Jan. 6, but officials in Washington are actually directing the probes.  So it was a Washington-led witch hunt being conducted through the various F.B.I. field offices
The situation resulted in active criminal investigations in which Friend is listed as the case agent, but has done no investigative work, according to the declaration.  This could be used later by the F.B.I. to falsely implicate friend in some future "incident", a way to control him and others like him.  To ruin a good reputation.
Friend brought concerns to supervisors, including telling special agent Greg Federico that it was inappropriate to use FBI SWAT teams to arrest suspects who were only facing misdemeanor charges. Federico allegedly said the search warrants being served by the teams were lawful and advised Friend to speak to the FBI employee assistance program to deal with stress.  Federico was implying that Friend had mental problems, and that recommendation is part of a permanent record now.
Federico forwarded the issue to supervisors, with whom Friend reiterated concerns about policy violations. He brought up the kidnapping case involving Michigan Gov. Gretchen Whitmer, which ended with several defendants being acquitted because of the heavy involvement of FBI agents and confidential sources. One of the supervisors falsely said that police officers were killed on Jan. 6, and said that Friend was being "a bad teammate," according to the declaration.  Smells like a set-up taking shape.
Friend refused to participate in future operations relating to the Jan. 6 investigation. His security clearance was suspended pending an investigation, and he was stripped of his credentials, firearm, and badge.
Friend is still employed by the FBI but remains suspended without pay.
Senators: Explain What Happened
Sens. Chuck Grassley (R-Iowa) and Ron Johnson (R-Wis.), who released the declaration, told FBI Director Christopher Wray that it appeared the bureau retaliated against Friend.
"Ultimately, rather than reassigning Special Agent Friend other tasks as he requested, FBI leadership apparently made the choice to retaliate against and make an example of him," the senators said in a Sept. 26 missive to Wray, a Trump appointee, and Wray's superior, Attorney General Merrick Garland, a Biden appointee.  F.B.I. Director C. Wray and U.S.A.G. M. Garland are two of the most powerful people in Washington, unelected and willing to feed the deep state.  "America" has no meaning to them.  "Truth" is as foreign to them as dreams of Tinker Bell.  These are lost people, so they have only worldly understanding of what is right and wrong.
"The alleged actions by FBI senior leadership are unacceptable and send exactly the wrong message," the senators said.
They urged officials to immediately stop disciplining Friend for what was described as protected whistleblower activity, which is protected by federal law.
"These unwarranted actions only serve to chill other employees from reporting wrongdoing, and demonstrate a complete and utter failure by agency leaders to obey the letter and intent of federal whistleblower protection laws," the lawmakers said.
They asked for answers on what happened to Friend by Oct. 10.
Grassley is the top Republican on the Senate Judiciary Committee and Johnson is the top Republican on the Permanent Subcommittee on Investigations.
"While we cannot comment on the specifics of personnel matters, all FBI employees understand they are held to the highest standards because their work is critical to fulfilling our mission of protecting the American people and upholding the Constitution of the United States. Employees who don't carry out their responsibilities are held accountable through an objective administrative process," a spokesperson said.
The job of the FBI is to enforce Federal law.  Their job is not to uphold the Constitution, but to submit to it in the course of their duties.  This is a sick organization loaded up with personnel from the "new generation" who have zero background in biblical truth, therefore they cannot clearly distinguish good from evil.  It is this very Godlessness that is the core of the F.B.I.'s demise and the demise of America in general. – jwd
"FBI employees who report evidence of wrongdoing through a protected disclosure are protected from retaliation. Such reporting supports the FBI's mission and is fully consistent with our core values."
'A Patriot'
Meyer, a managing partner at Tully Rinckey, said that the case is about "good governance," adding: "investigative misconduct undermines prosecution and invades the Constitutional rights of innocent Federal employees, including Special Agents like Stephen. Too many Beltway investigations have been rushed in the past decade; the practice is undermining our institutions of government."
Jason Foster, founder and president of Empower Oversight, said that Friend "is a patriot who did the right thing and is being punished for it."
"It is outrageous to abuse the legitimate process of a security clearance investigation as an illegitimate pretext to retaliate against someone for protected whistleblowing. Blowing the whistle is not a valid reason to label someone a security risk," added Foster, who is helping represent Friend.
Do Select One Link Below Before You Go. Read & Subscribe.