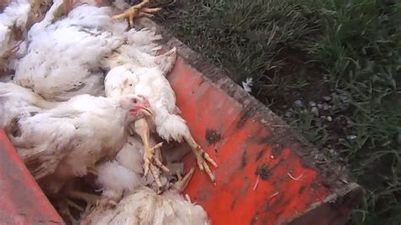 In the United States and all across the world, millions upon millions of chickens and turkeys are dying as a result of a new bird flu plague, diagnosed by the PCR TEST used improperly AGAIN as they did for COVID-19.  Only this time, they get to slaughter millions of chickens to "STOP THE SPREAD".  That's what I hear from reliable sources.  Probably true.
From The Economic Collapse Blog…
Considering the fact that global food supplies have become extremely tight and even Joe Biden is admitting that food shortages are looming, this is definitely something that we don't need right now.  The very first confirmed case of allegedly highly pathogenic avian influenza (HPAI) in a commercial flock in the U.S. was confirmed on (no doubt by the misused PCR Test-jd)
February 8th, and in less than two months it has spread to facilities all over the nation.  Sadly, we have just learned that it has now even reached the top turkey-producing state in the entire country…
For the first time, highly pathogenic avian influenza (HPAI) was confirmed in Minnesota, the top turkey-producing state in the nation, said agricultural officials over the weekend. Some 14.6 million birds in domestic flocks have died of HPAI or in culling of infected herds to reduce the spread of the viral disease this year.
To me, that death toll is extremely alarming.
In less than two months, over 14 million chickens and turkeys in the United States have already been wiped out by this plague.
If things are this bad already, what will the total death toll look like six months from now?
One expert that was interviewed by NBC News says that he is anticipating an "explosion" of new cases in the weeks ahead…
The measures may do little to stop the spread of the virus, according to Henry Niman, a virologist and biochemist in Pittsburgh who has been tracking the bird flu's spread. He is expecting an "explosion" of bird flu cases in birds in the coming weeks.

"This outbreak I think is likely going to be bigger than 2015," he said, noting that the disease is already widespread in other regions of the world, such as Europe and Canada.
If he is correct, we are potentially facing a true national catastrophe.
Of course it isn't just the U.S. that is dealing with this.  In Canada, HPAI has now been confirmed in southern Ontario…
The Canadian Food Inspection Agency says bird flu has been found at a poultry farm in southern Ontario.

The agency says the farm is under a strict quarantine, and the CFIA is establishing movement controls and recommending higher biosecurity at nearby farms.
Europe and Asia are being hit really hard as well.  For example, a new outbreak was just detected at a large facility in Bulgaria…
An outbreak of bird flu on a Bulgarian farm with over 177,000 laying hens has forced authorities to begin slaughtering the remaining flock, the country's food safety agency said on Monday.

The outbreak in the town of Asenovgrad is the sixth industrial farm hit by the highly pathogenic avian influenza type A in southern Bulgaria since December.
As you read this article, you may be wondering what this plague is going to do to the price of chicken and the price of turkey.
Needless to say, we are headed into unprecedented territory.  Just look at what happened to the price of chicken wings in just one week…
Chicken wings averaged $3.82 per pound according to the USDA's National Retail report last week, compared to $2.99 the week prior and $2.54 last year.
Normally, Americans eat an enormous amount of chicken and an enormous amount of turkey.
But now that we are facing potential shortages and much higher prices, both chicken and turkey may soon be considered "luxury meats".
For our entire lives, most of us have been able to take extremely cheap meat for granted.  It was always there in the grocery stores whenever we wanted it, and before the last couple of years I don't remember ever hearing about any shortages.
But now everything is changing.
At first, U.S. consumers were willing to absorb higher prices as inflation began to ravage our economy, but now we are starting to witness a shift…
U.S. households have until recently mostly absorbed higher prices on everything from coffee to chicken to clothes, helping companies maintain fat profit margins despite higher input. But that doesn't mean consumers were happy about paying more for the same goods, which is why the University of Michigan's sentiment index has steadily deteriorated to the lowest since 2011.
A trip to the grocery store is becoming increasingly painful for most Americans.
If you have been lately, than you know exactly what I am talking about.
But the food inflation that we have seen so far is just the tip of the iceberg.
Let's just hope that this new bird flu plague stays only in birds.  According to the official CDC website, the death rate for H5N1 in humans can be extremely high…
More than 700 human infections with Asian HPAI H5N1 viruses have been reported to WHO from primarily 15 countries in Asia, Africa, the Pacific, Europe and the Near East since November 2003. Indonesia, Vietnam and Egypt have reported the highest number of human HPAI Asian H5N1 cases to date.

The first report of a human infection with Asian H5N1 in the Americas was in Canada on January 8, 2014 and occurred in a traveler recently returning from China. Although human infections with this virus are rare, approximately 60% of the cases have died.
The good news is that authorities are telling us that it is "unlikely" that a strain will emerge that can spread widely among humans.
But I think that it is interesting to note that the CDC has already "produced a candidate vaccine virus as a precaution"…
But H5N1 has a very high mortality rate, and the longer and larger the wave of outbreaks, the higher the chances it could mutate into a strain that is more infectious to humans. So US health officials are closely monitoring the situation.

The CDC has also produced a candidate vaccine virus as a precaution.
Needless to say, this new bird flu plague that is killing millions of chickens and turkeys is only one piece of the puzzle.
The truth is that we are in the midst of a "perfect storm" which just continues to increase in size and scope.
I recently heard from a farmer that told me that many in his industry are scared to death of this bird flu.
Once it is detected at a facility, all of the birds must be put down.
If that happens, that can be financially catastrophic for a farm.
I am going to keep a very close eye on this story, because this is really big.
Of course so many big things are happening right now, and I expect global events to accelerate even more throughout the rest of 2022.
Editors Note: This looks like a contrived epidemic, again, same as Covid.  Use a bogus test result as an excuse to eliminate millions of tons of protein from the food chain, forcing us to eat the bugs as suggested by Klause Schwab and the WEF.  This is a plandemic.  Do not kill your chickens.  
***It is finally here! Michael's new book entitled "7 Year Apocalypse" is now available in paperback and for the Kindle on Amazon.***
About the Author: My name is Michael and my brand new book entitled "7 Year Apocalypse" is now available on Amazon.com.  In addition to my new book I have written five other books that are available on Amazon.com including  "Lost Prophecies Of The Future Of America", "The Beginning Of The End", "Get Prepared Now", and "Living A Life That Really Matters".   The material contained in this article is for general information purposes only, and readers should consult licensed professionals before making any legal, business, financial or health decisions.  I encourage you to follow me on social media on Facebook and Twitter, and any way that you can share these articles with others is a great help.  These are such troubled times, and people need hope.
John 3:16 tells us about the hope that God has given us through Jesus Christ: "For God so loved the world, that he gave his only begotten Son, that whosoever believeth in him should not perish, but have everlasting life."  If you have not already done so, I strongly urge you to ask Jesus to be your Lord and Savior today.
The post U.S. Death Toll Rises To 14.6 Million As The New Bird Flu Plague Spreads Like Wildfire All Over The Globe appeared first on The Economic Collapse.
Do Select One Link Below Before You Go. Read & Subscribe.