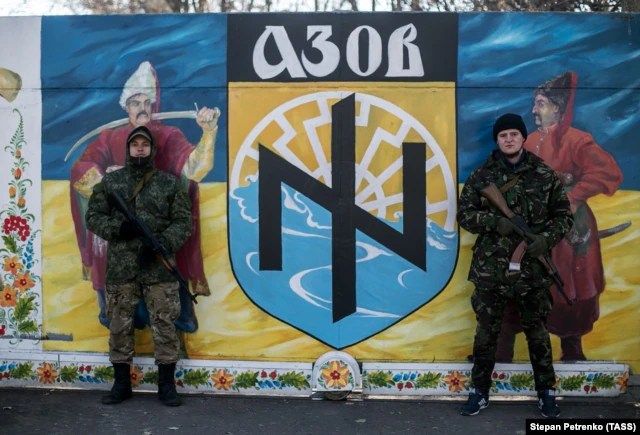 Just to be perfectly clear: The Ukrainian civilians are being murdered by Zelensky's NAZIs.  These Ukrainian NAZIs go into civilian homes, kick the families out, and start shooting at the Russians from the windows.  They do this for two reasons: First, the Russians will not fire on civilians so AZOV seeks safe firing positions.  Second, because the the NAZIs want to provoke Russians into firing on civilians.  Any support for Ukraine's war and Zelensky is made by wicked leaders, and there are many.  Very many.
Don't be surprised if Zelensky declares himself god someday. Oh, and it looks like the Chinese might have dropped paratroopers into Yugoslavia or Serbia a few days ago.  More on that later.  And that "captured American officer"?  He hasn't appeared anywhere in over a week, so it looks like someone captured him.
---
rairfoundation.com /independent-journalist-exposes-zelenskys-murderous-nazi-soldiers-hunting-civilians-watch/
Independent Journalist Exposes Zelensky's Murderous 'Nazi' Soldiers Hunting Civilians (Watch) – RAIR
View all posts6-7 minutes 4/8/2022
---
"Ukrainian Nazis shoot people and kill people. They kill civilians. Women, men, everybody."
US Navy veteran and independent crowd-funded journalist Patrick Lancaster is in the southern Ukrainian port city of Mariupol, where the Russian army is gaining ground. Ukrainian Nazi group Azov Battalion has longed occupied Maripol. Azov is a significant part of the Ukrainian army. Lancaster interviewed residents near Azovstal, a large steel factory where the Ukrainian military is entrenched.
A man told Lancaster that a sniper nearly him twice. Lancaster heard the bullets flying around his ears. He explained that it was not the Russians who almost killed him but a sniper from the Azov Battalion. "They are shooting at civilians," stressed the man. "They don't shoot soldiers, only civilians. They kill civilians and destroy buildings. These Banderites, or fascists, or Nazis or SS men, I don't know what to call them."
Ukrainian Nazis Killing People
Another man told the reporter that the snipers were 'Nazis.' "Ukrainian Nazis shoot people and kill people. They kill civilians. Women, men, everybody."
The Maripol resident said that they are releasing men from prison. They get a lot of money to kill people for no reason. Lancaster told the man that American and European media are claiming that Russia is destroying cities and killing people. "Russia doesn't shoot people at all," the man explained.
Ukrainian Tanks Destroy Homes
A crying woman told the journalist that she would have to go hungry and thirsty without the Russian aid. The woman, who thanked the Russians, said Ukrainian tanks had destroyed her flat, and they live in constant fear.
Lancaster interviewed many people who have fled Mariupol. In a village hosting refugees from the city, the war journalist spoke with Lena, who had left Mariupol in a hurry.
She told Lancaster that she lived in a small bomb shelter with 160 others for a month. "Without light, without water, and without food. We drank snow and rainwater."
"Members of the Azov battalion constantly fired upon us," Lena said. "They stood in our yards, shooting their guns and attracting attention."
"They knew that Russian soldiers would not shoot civilians. For that reason, they entered houses, kicked the people out, and started firing from the houses. They used us as shields," said Lena.
"Every day, they destroyed blocks of houses. She told Lancaster they set fire to houses, shot at people, and killed people." The Azov battalion shot at people going outside to make lifesaving fires. "When you go out to make a fire, someone shoots at your legs with a machine gun. And you run in. To warm up the water, you go out 50 times, hear the shooting, and run in again."
Azov Battalion are Villains
People also died in the bomb shelters, Lena said. For example, an older woman who died in her shelter couldn't be buried for two days because of the bombing. So the woman's corpse lay dead among all the people living with her.
"They are villains, zombies. Their goal was to destroy the city. They destroyed the city," she said of the Azov battalion.
When asked why she didn't leave sooner, Lena replied that there were rumors that people who tried to leave the city were being shot at. At one point, the situation was so dangerous that she had no other choice and had to flee,
We didn't know any information. If they had given us some information if they would have thrown some leaflets from the plane that there was an evacuation. People did not know whether it was possible to evacuate or not and where to go. There were rumors that cars were driving and families were being shot. Men are killed, and cars are taken away. So it's a very big risk Everyone was afraid for their lives, everyone was afraid to just get out of the basement so that they would not be killed. But when the situation became so critical, we had to take risks. Yes, yes, no, no. If they kill us on the way, they will kill, if they don't kill, they won't kill. So we managed to get here.
Western Countries Have It Wrong
Lancaster noted that in Western Ukraine, Europe, and the United States, there are claims that Azov is trying to do something good for the people. "Azov is killing people and destroying the city. That's all," Lena emphasized.
She added that her father had stayed behind because he had been paralyzed for six years. She suspects he has died of hunger or was blown up in his home. "I don't know what happened to him." She also lost a son along the way, but a month later, she found out he had escaped and made it to Europe. Lena plans to go to Europe with her second child so that they can be reunited.
'They Are Hunting People!'
Lancaster also spent a day riding an ambulance in the city of Mariupol and spoke with members of the Donetsk people's militia who are helping the Russians.
A member of the people's militia told Lancaster that the Ukrainian army was firing at civilians at close range. "They hide behind civilians and shoot! Like rats in a trap! That's what happened here. And the wounded are brought in here!"
"They shoot people randomly! They are hunting people! They're using the city as a shooting gallery! They are Nazis!" he continued.
He pointed out to Lancaster that a Ukrainian tank shelled Mariupol's central hospital. People who tried to escape were shot. "Ukrainian troops have done that! We are not fighting Ukraine. We fight against fascism!"
He also showed the journalist naval mines deposited in the city by the Ukrainian National Guard.
Follow Lancaster's Work
Independent Journalist Exposes Zelensky's Murderous 'Nazi' Soldiers Hunting Civilians (Watch)
Lancaster is one of the few English-speaking reporters covering the war. To view more of his reports, view here:
---
I said American, but he might be English.  He writes and spells like an American. – jerry
Do Select One Link Below Before You Go. Read & Subscribe.